Google+ !

I just created my Google+ account -
[link]
It would be nice to have my DA watchers and friends there too! Hope to see you soon!!

Yesterday I received very amazing gift from my dearest friend Cindy

!!
Thank you very much dear Cindy, I am very happy to have a beautiful friend like you and thank you for your precious support!!


My works are registered and protected
by
All materials in my gallery may not be reproduced, copied, tubed or used in any form without my written permission!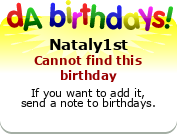 Create your own visitor map!