div class="subheader">Free CSS by DP Studios
Menu
Credits
CSS © 2009:devdigitalphenom
Happy Easter

Happy Easter to all my friends!!!



!! Wishing your Easter is decorated with love, peace, joys of Spring and the season's blessings!! !

New Gift
My dear friends, I received a very beautiful gift from my darest friend hiaamir

!!


Thank you from all my heart for this is beautiful dedication!!



Features
My works are registered and protected
by
All materials in my gallery may not be reproduced, copied, tubed or used in any form without my written permission!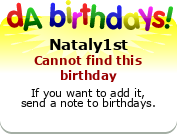 Create your own visitor map!