Journal Entry:
Tue Jan 24, 2012, 9:19 AM
Featured Art
Here as usual in this is new features I want to present you wonderful works of talented and amazing artists that I as usual choice for this week!



:thumb281205726:
:thumb280367046:
:thumb280798759:
:thumb279850111:
:thumb278692246:
:thumb278532231:
MY DD AND PREMIUMS
:thumb182270796::thumb208320029:
MY LAST WORKS
My works are registered and protected
by
All materials in my gallery may not be reproduced, copied, tubed or used in any form without my written permission!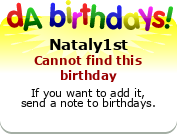 Create your own visitor map!