Merry Christmas!!!
My dearest and beautiful friends, may all the beauty and blessings of this Christmas season has to offer be with you and your family!
Merry Christmas to you all!!! Many hugs and kisses from Rome!!
I've got DD!!!

OMG!!!! What a beautiful surprise I received this morning - my photo with snail
got DD!!!

I jumped trough the room like a child, really!



Thank you so much Marcos

for featured my work, I am very grateful for it and want send to you a big
!!


And I want to thank all people who took their time to take a look to this work and also for the new Watches, Faves and Congratulations, it means a lot to me!
Thank you so much for all your support!






Hello my dear friends!!



Just want to say that I very glad to be here with you again!!



And thanks a lot for all HUGS and KISSES that I received!!


New Gift
Thanks a lot to my dearest friend Frank

for this is delicate and beautiful flower!!


Yo are always very kind!


Features
My last works
My DD
My works are registered and protected
by
All materials in my gallery may not be reproduced, copied, tubed or used in any form without my written permission!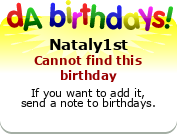 Create your own visitor map!