Hello my dear friends!!



Just want to say that I very glad to be here with you again!!



And thanks a lot for all HUGS and KISSES that I received!!


New Gift
Thanks a lot to my dearest friend Frank

for this is delicate and beautiful flower!!


Yo are always very kind!


Features
My last works
My DD
My works are registered and protected
by
All materials in my gallery may not be reproduced, copied, tubed or used in any form without my written permission!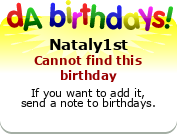 Create your own visitor map!